Prenatal yoga is designed to support mothers-to-be on their individual pregnancy journeys, from conception all the way to birth. These classes will help you meet your changing physical and emotional needs, while addressing any unexpected challenges that might arise. From uplifting movement practices and back care, to meditations to connect with your baby, you will find a full spectrum of support tools.
Benefits can include
Lower your blood pressure. Studies have shown that pregnant women's heart rate and blood pressure lowers after doing prenatal yoga
Women who do yoga — including breathing exercises, posture positions and meditation — for one hour a day have been shown to have a lower preterm labor rate, as well as lower risk of pregnancy-reduced hypertension.
Stabilize your moods. Another study showed that yoga, combined with meditation, deep relaxation and breathing exercises, can significantly decrease levels of depression in moms-to-be.
Manage your weight. Like all physical activity, yoga keeps you active, which helps you to better manage your prenatal weight gain.
Improve your delivery experience. The breathing exercises you will practice in yoga can be calming when it comes time to deliver. Plus, the many stretching and strengthening moves can improve your delivery experience and your recovery (from either a vaginal birth or C-section), since your core and other important muscles will be stronger and more toned. In fact, one small study found that women who participated in a yoga routine involving just six sessions before birth spent less time overall in labor than those who did not. They also reported they felt less pain and more comfortable during and immediately after labor.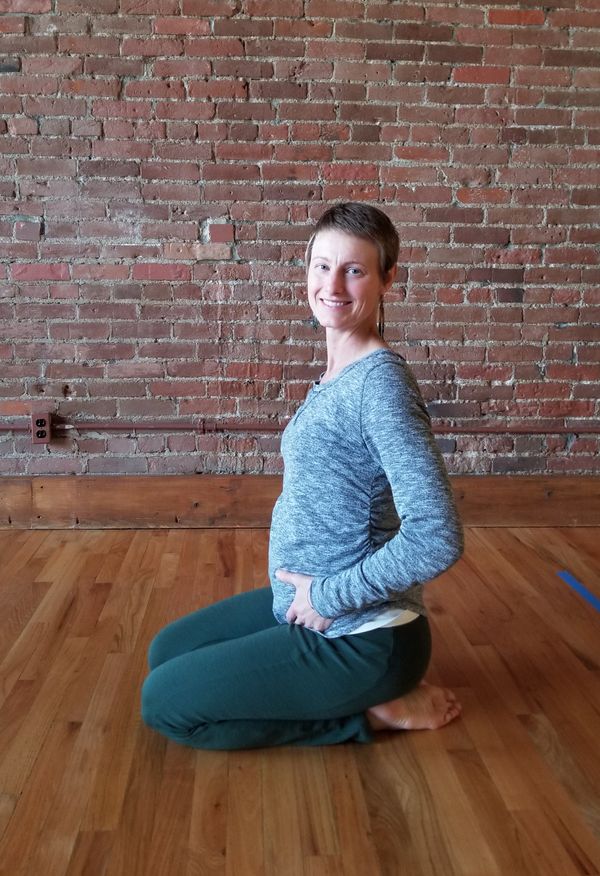 Additional Benefits
Improved sleep
Increased strength, flexibility, and endurance
Decreased lower back pain
Decreased nausea
Decreased carpal tunnel syndrome
Decreased headaches
Join longtime Old Town Yoga teacher Andrea Bilderback (also currently pregnant) and share this special journey with other mom's-to-be either in-studio (limited to 4) or online.
Friday: December 4th & 18th at 5:15PM
Tuesday: December 8th, 22nd & 29th
Due to the current COVID-19 situation, all clients are required to wear masks for the entire time while in the studio except while on your yoga mat during class. Additionally, we are keeping classes to 10 people max including the teacher. Class spots are spaced out to 6 feet and the floor is taped off. We have hand sanitizer upon entry and the studio is cleaned regularly. If you are showing any symptoms, we are required by law to turn you away - please stay home if you are feeling unwell :)Thank you for your support!