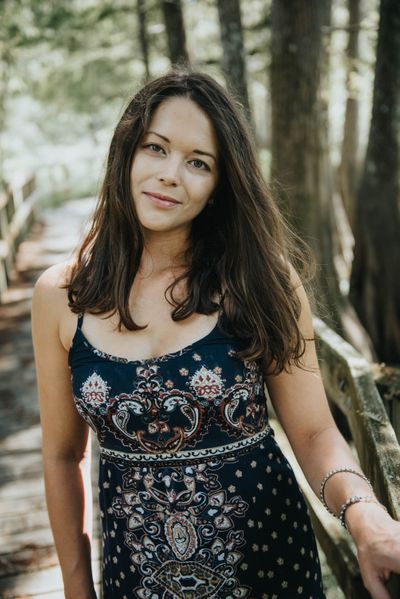 Ashley Dubois
Ashley is a mental health counselor and RYT-200, who is passionate about sharing the mind-body-spirit connection of asana, meditation, and breathwork. Ashley started her restorative and power yoga home practice as a young gymnast, athlete, & dancer. Her desire to teach others later grew as her practice intensified, through a five year recovery from severe physical and emotional trauma.
Ashley's teaching is inspired by studies in holistic wellness, non-dual tantra, Baptiste yoga, Forrest yoga, and Kripalu Integrative Yoga Therapy. She aims to empower students to know the wisdom, or teacher, within themselves.
In 2018 Ashley completed the Baptiste Institute's "Unstoppable Youth" kids' mindfulness and yoga teaching certification in Louisiana, hoping to bring mindfulness to her practice as a counselor of children, teens, & families. In 2019, Ashley completed her 200 hour teacher training at Full Circle School of Yoga & Intuitive Arts in Florida. Her training emphasized tantra, pranayama, ayurveda, sound healing, & kundalini energy. Ashley hopes to further her studies through the Prana Vinyasa school of yoga.
When she is not on the mat, you can find this yogi immersed in travel, music, writing, and art. She works as a Ft Collins crisis counselor, who lives the dharma of karma yoga by walking with others through their own paths of healing.