Soundembodiment is a very special ALL levels in-studio event where participants will be guided through a series of seated listening and breathing techniques (designed for significantly reducing stress, more effectively managing negative emotional states, as well as developing higher levels of focus and self-awareness), followed by an extended Tibetan singing bowl & Gong Sound Meditation practice where you can simply lie back, settle into a quieter state of mind, and listen in an environment intended to cultivate, strengthen, and support your own inner sense of well-being.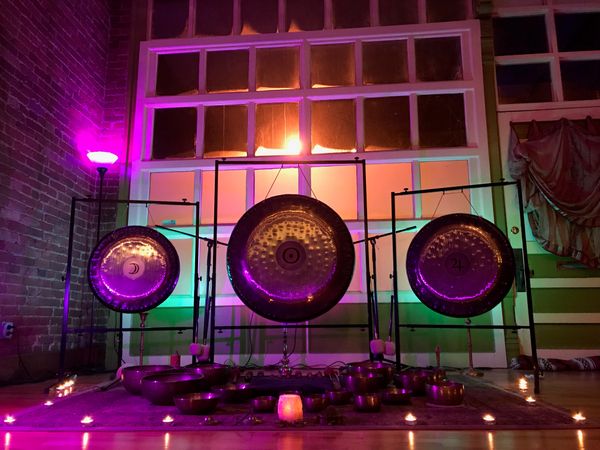 How can a Sound Meditation practice benefit You?
Dramatically reduces stress
Improves quality of sleep
Increases ability to focus & concentrate
Improves memory & overall mental clarity
Heightens creativity & imagination
Develops a greater sense of self-awareness & willpower
Reduces ineffective mental chatter & negative self-talk
Increases compassion & empathy toward others
Boosts the immune system & healing response
Decreases symptoms of depression, anxiety, & ADHD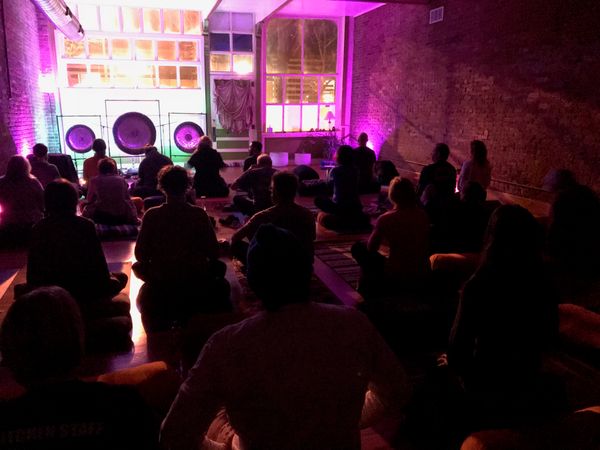 A one of a kind combination of highly specialized sacred sound instruments will be used, consisting of:
20 authenticated ancient Tibetan singing bowls
38" Paiste planetary Sun gong
28" Paiste planetary Jupiter gong
24" Paiste planetary Moon gong
*All singing bowls will be amplified by a stereo quality sound system to create one of the most powerful sound meditation experiences that you have ever had!
Upcoming Events
Cost is $30 per event and $75 for a package of three events. Event packages can be shared. All Events must be registered for online. If you are unable to register, it's likely that the event is sold out. PLEASE DO NOT ARRIVE WITHOUT REGISTERING. If you have questions, please call 970-222-2777
About Jonathan De Leon
For the past 10 years, Jonathan De Leon has been sharing his work with Tibetan singing bowls and gongs at various yoga studios, medical, wellness, and retreat centers to assist others toward their own personal growth and practice of meditation. With these ancient instruments, he seeks to create richly dynamic and interactive soundscapes that provide an ideal environment from which to practice meditation and cultivate the skills necessary for maintaining one's own personal sense of happiness, meaning, and well-being.
For more info about this event instructor, please visit either Jonathan's website or social media pages at:
www.facebook.com/soundembodiment