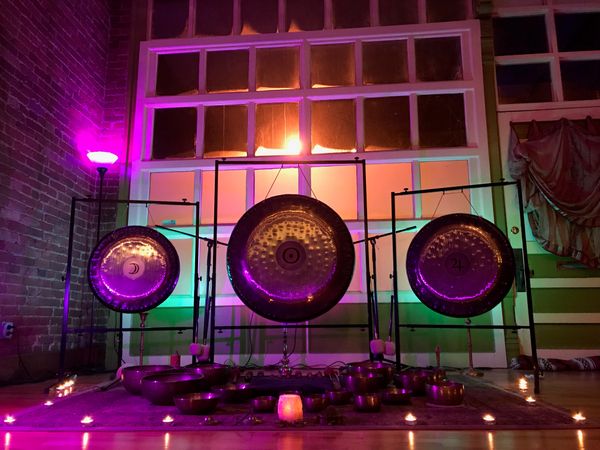 In this special ALL levels event participants will be guided through a series of seated listening and breathing techniques (designed for significantly reducing stress, more effectively managing negative emotional states, as well as developing higher levels of focus and self-awareness) followed by an extended Tibetan singing bowl & Gong Sound Meditation practice where you can simply lie back, find a quieter state of mind, and listen in an environment intended to support, strengthen, and cultivate our own inner sense of well-being. How can a Sound Meditation practice benefit You?
Reduces stress
Improves quality of sleep
Increases ability to focus & concentrate
Improves memory & overall mental clarity
Heightens creativity & imagination
Develops a greater sense of self-awareness & willpower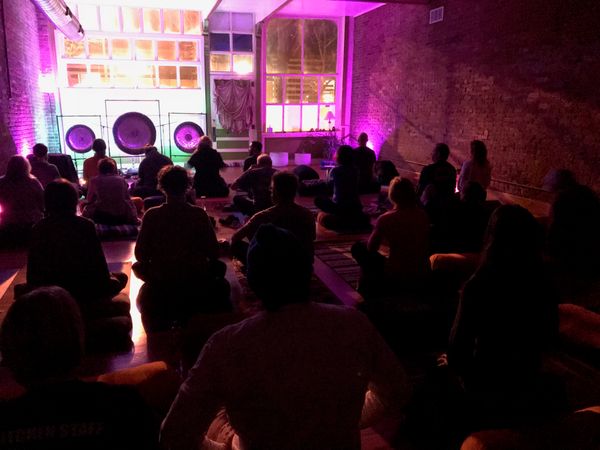 A one of a kind combination of highly specialized sacred sound instruments will be used, consisting of:
16 authenticated ancient Tibetan singing bowls
38" Paiste planetary Sun gong
28" Paiste planetary Jupiter gong
24" Paiste planetary Moon gong
All Tibetan bowls are amplified by a stereo quality sound system to create the most immersive sound meditation experience for you possible!
Upcoming Events
Sunday, March 31st - 7-8:30pm Register Here!
Saturday, April 20th - 7-8:30pm Register Here!
Saturday, May 18th - 7-8:30pm Register Here!
Saturday, May 26th - 7-8:30pm Register Here!
$20 Early Bird, $30 on the day of the event.
3 Pack - $52.50 (use within 3 months)
5 Pack - $75.00 (use within 5 months)
Yes, Sacred Sounds class packs may be shared! Questions? Chat with us on the lower right!