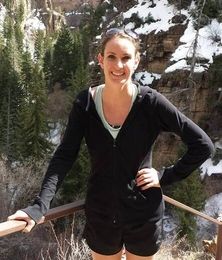 Dakota d'Oronzio
Yoga Teacher
Dakota fell in love with yoga as a teenager and has practiced ever since. To her, practicing yoga has been a beautiful form of active, self-compassion. A magical flow can get you in tune with your body and allow you to hear and guide your own thoughts. Having experienced her own back pain journey, she's on a mission to provide others with the same tools she's discovered to tame physical aches and pains and communicate with an anxious nervous system.
Dakota has her 200hr teaching certification in a physical-therapy-based style of yoga called LYT. In her classes you'll practice finding proper muscle engagement and alignment to improve your posture on and off the mat. Expect to do some core work, joint stabilization, expansive breath, and functional movements.
Outside of yoga, Dakota works as a river restoration engineer. She enjoys biking around town, rock climbing, and salsa dancing!